Child Passenger Safety
Looking to have a Car Seat Checked?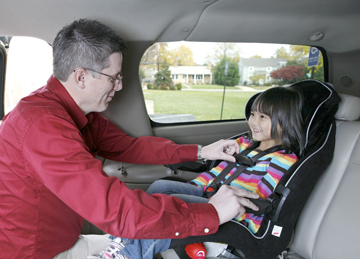 There are a few things you should know before you meet with a Child Passenger Safety Technician (CPST). This isn't like getting an oil change on your car, where you leave the car and go do something else. Working with a CPST will be a one-on-one learning experience. When you leave, you should feel confident about the installation and feel comfortable re-installing it on your own. Our seat check listings are Agency-Hosted Events or "By Appointment-Only" options. (No drop-in service.) Scroll down for listings.
KNOW BEFORE YOU GO:
Check-up events are hosted on a first-come, first-served basis and are primarily staffed with community volunteers. Each car seat check takes about 30 minutes - multiple seats require additional time. Expect a wait when cars are lined up. Metro-area events are well attended and may fill up to capacity prior to posted end time. All check-up events are tentative due to weather.
Plan to Participate: It is helpful to install your car seat to the best of your ability BEFORE the event. Please bring car seat instructions and vehicle owner's manual. Know your child's height and weight, and bring them if possible. You may want to bring another adult along to help watch your child. Be prepared to learn, not just watch the CPS technician install the car seat. They are trained to teach you.
Plan Ahead: It is recommended that expectant parents have car seat(s) checked two to three months priorto due date*. *If you cannot make it to an event or appointment, watch installation videos and do the best you can until you can get your car seat checked by a certified CPS technician.​
Click here to read more about what to expect during a car seat check.
Espere un evento de chequeo o visite a un Técnico de Seguridad de Niños como Pasajeros (CPS en inglés) para asegurarse de que los niños viajan completamente seguros.
A note about the Calendar and Resources on this page: All programs and events are coordinated by individual agencies. Please contact the hosting agency if you need additional information. Be sure to check for updates and cancellations prior to attending any event.
For general questions or additional information
Contact Oregon Impact Car Seat Safety Program
503-899-2220 or OregonCarSeatSafety@gmail.com
For information on low income car seats or car seat check appointments:
Oregon Impact 503-899-2220
American Medical Response 971-409-5758
Doernbecher Children's Hospital 503-418-5666
Hillsboro Medical Center 503-494-3735
Randall Children's Hospital 503-413-4005
By appointment only the following agencies are avaliable to show you how to correctly install and use your car seat.
Albany Fire Department -

541-917-7700

Astoria Lewis and Clark Fire Department -

503-325-4192

Baker City Police Department -

541-524-2014

Brookings Police Department -

541-469-3118

Burns City Hall -

541-285-6004

Canby Police Department -

503-266-1104

Clackamas American Medical Response -

971-409-5758

Coos Bay Fire Department -

541-269-1191

Corvallis Fire Department -

541-766-6961

Grants Pass Fire Department -

541-450-6200

Hermiston Umatilla Morrow Head Start -

541-564-6878

Hillsboro Medical Center -

503-494-3735

John Day Families First -

541-575-1006

Klamath Falls Tribal Heath and Family Services -

541-882-1487

Lake Oswego Police Department -

503-635-0238

Lebanon Fire District -

541-451-1901

Milwaukie Oregon Impact

-

503-899-2220

Multnomah County - Deputy Volker -

503-823-3333

Newberg-Dundee Police Department -

503-554-8825

Pendleton Umatilla Morrow Head Start -

541-966-3354

Portland American Medical Response -

971-409-5758

Portland Doernbecher Children's Hospital -

503-494-3735

Portland Randall Children's Hospital at Legacy Emanuel -

503-413-4005

Prineville Crook County Fire and Rescue -

541-447-5011

Silverton Fire Department -

503-873-5328

Sisters Camp Sherman Fire Department -

541-549-0771

The Dalles Safe Kids of Columbia Gorge -

541-980-1019

Warrenton Medix Ambulance -

503-861-1990
Register Your Car Seat
NHTSA Fitting Station Locator
Can't make it to a car seat check-up event/clinic or appointment?
Until you have a chance to attend a check-up event/clinic or appointment, watch instructional videos online, and read through your car seat instructions to install the seat to the best of your ability until you can meet with a CPS Technician. You will need to consult your vehicle owner's manual as well. Contact the car seat manufacturer and/or vehicle manufacturer if further technical clarification is needed. Follow this link to view general videos on installation for each type of child safety seat. Be sure to also check your car seat manufacturer's website to see if there is an installation video for your specific seat. Then, plan to attend a check-up event or seat check appointment to be sure the seat is properly installed.
Guide to Conducting Child Passenger Safety Check-Up Events
Child Passenger Safety (CPS) Check Up Events are a valuable community resource designed to increase the percent of car seats used correctly; educate participants about safely transporting their children; evaluating all passengers under 13 years of age to make sure they ride safely; and to raise awareness of local, community traffic safety efforts.
This guide provides an overview of what is involved in hosting an event. It is designed for organizations interested in hosting an event and for Child Passenger Safety Technicians planning events.
Click here to download the Guide to Conducting Child Passenger Safety Check-Up Events.